Micah is turning into a little thumb-sucker. This is both a good and bad thing. Self-soothing is a wonderful skill for a baby to develop, both for his sake and his parents'. And Micah looks cute sucking his thumb. But sometimes I wonder if he'll get so hooked on it that he'll still be doing it in grade school, wanting to give it up, but unable to resist the temptation.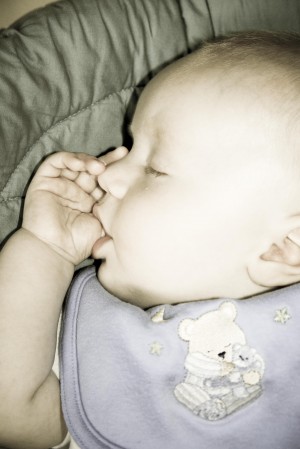 Habits are hard to break for both kids and adults. Most of us here in America have access to all kinds of comfort. It's a blessing until we go from simply enjoying something to becoming dependent on it. But where is that line? How do we know if we should try for moderation or just cut something out entirely?
The Bible tells us to sacrifice for the sake of holiness (Romans 12:1) and to keep ourselves unstained by the world (James 1:27). But it also tells us to enjoy life. The author of Ecclesiastes writes, "I know that there is nothing better for people than to be happy and to do good while they live. That each of them may eat and drink, and find satisfaction in all their toil—this is the gift of God" (3:12-13).
I believe in absolute truth, and in some places Scripture is very clear. Jesus says He is the only way to eternal life. You can't get around that and still claim to believe the Bible. But Scripture is also full of ambiguity. It's fascinating to me that God chose to leave His word in our hands to interpret and apply.
And sometimes it's frustrating. I have categories where I want God to spell out the details for me. How much wine is too much? How much media is too much? I guess if there was one sweeping standard, it'd be laid out in the Bible. It seems my question about the line – what God wants His believers to enjoy and what He wants them to sacrifice – will be drawn in different places for each individual.
Figuring all this out isn't easy. But the more I talk with God and search His word for answers, the more I know Him. God does everything on purpose, and it seems He wants me to spend this time with Him as He helps me draw lines where they need to be. Not for others, but for myself. And not for the past or the future, but for now. I like the little comforts God has put in my life, but I want to save my love for God Himself, and writing my personal definition of moderation is part of that.
I'm not sure what all this has to do with Micah and his thumb-sucking. But it's interesting how thought-provoking a baby can be.