If the book of Job teaches us nothing else, it's that some stretches of life are harder than others. Sometimes tragedy isn't just one major event – it's something big in the middle of a long string of difficulties.
The "something big" in family was my dad's death on November 3rd, 2009. But this week my sisters faced another struggle – the decision of what to do about their cat, Val. At thirteen years old, she'd gotten very skinny and sick. The vet diagnosed her with terminal cancer and suggested the cat be put to sleep before she suffered too much pain. After lots of tears and deliberation, my sisters agreed. To the non-animal lovers in the world, an old cat's death isn't a big deal. But this cat was part of our family for years, and her terminal cancer diagnosis came just five months after our dad's battle with terminal cancer.
I don't particularly consider myself an animal person, but during our infertility, Adam and I decided to get a kitten. We went to the pound and picked out a little orange and white tabby with amber eyes. We named him Kona for the place Adam and I first met. And from day one, Kona loved us. He wasn't a typical cat who kept to himself. When I'd walk in the door from work every day, he'd come racing around the corner to see me. When I graded papers, he'd climb all over me. He was a faithful little something-for-me-to-love during that too quiet time in my life. I might not have had a baby, but at least my arms weren't completely empty.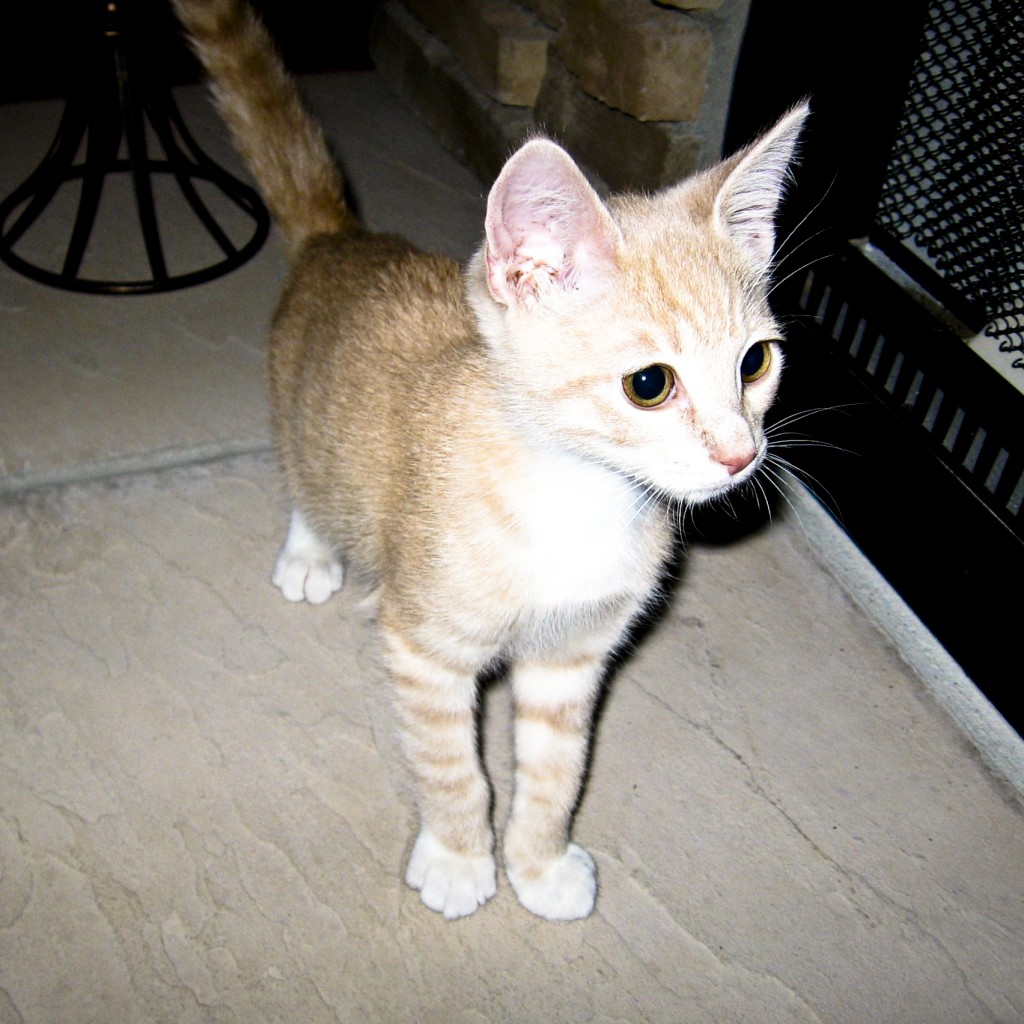 Then Kona disappeared off the back porch. On the day of my Grandma's funeral. We were also in the middle of an IVF cycle, which we learned a week later hadn't worked. A few weeks after that my doctor found skin cancer on my face. My Grandma had died, Kona was gone, and despite spending over $10,000 on IVF, I still wasn't pregnant. Instead of seeing a baby doctor, I found myself making a series of appointments to have the skin cancer removed.
My Grandma's death and our failed fertility treatments were tragic to me on a large scale. I could sense God challenging me to trust Him through my pain, knowing those events were part of a larger plan I couldn't see. But Kona's disappearance seemed different. I wondered how it could possibly have a purpose behind it. And the timing of it seemed cruel.
It's been almost five years since that difficult summer and I know now that God had two miracle babies planned for me just a little bit later. I'm still not sure why everything happened the way it did – whether God took Kona away for a specific reason or if Satan was trying to kick me while I was down.  But I do know that God wants to bring good things out of every bit of pain we face, and that's exactly what He did for me, long before I got pregnant. The combination of everything happening at once that summer turned me into a heartbroken mess and I knew I couldn't handle it all on my own. It led me to finally open up to my family and some trustworthy friends about the infertility, and to humble myself and ask for help, for prayer, and for compassion. It also brought Adam and me much closer together.
More than anything else, I began to sense God's presence like I never had before. It might sound strange, but I remember sitting on our bedroom floor in tears and suddenly feeling like Jesus was sitting beside me. The Bible says that Jesus was a man of suffering, and familiar with pain (Isaiah 53:3). I was emotionally devastated, but I knew I wasn't alone, and that no matter what happened to me next, Jesus would still be with me.
I would never want to relive that summer. But those circumstances led me to an intimacy with God that challenges me even now. I often wonder if I'm still that close to God or if I've become distracted.
My thoughts are on my sisters today. I hope they sense God's comfort. And even though they might not understand what He's doing right now or even years down the road, I hope they can someday say He brought good things out of this dark time in their lives.
"Do not fear, for I have redeemed you; I have summoned you by name; you are mine. When you pass through the waters, I will be with you; and when you pass through the rivers, they will not sweep over you." – Isaiah 43:1b-2a