I've been thinking a lot lately about death. My dad's death, Jill's death, and even my own. I listened to a podcast last week by Francis Chan and can't get it out of my head. His topic was Revelation 4, which describes the throne of God in heaven. Chan's main point was that most of what we obsess over on earth will mean nothing to us on that day. All any of us will want in that moment is to hear Jesus speak the words "well done" over our lives.
I wonder about my dad and Jill, and what it was like for them when they opened their eyes and found themselves staring at the actual throne of God across the crystal sea. Were they thrilled? Relieved? Terrified? I have no idea and that makes me want to cry. I believe heaven will be wonderful, but none of it is familiar, so in that sense it's intimidating. I don't like that I can't picture exactly what my dad is doing right now.
Life has a heaviness to it these days. Once the kids are asleep, my thoughts immediately go to my dad, my family, Jill, and her family. I've never felt grief like this and I wonder how long it will take for things to feel normal again or if they ever will. But the Bible says that the Lord is close to the brokenhearted (Psalm 34:18), and I know God is with me in the sadness.
He keeps blessing me, too. This past weekend was nice in so many small ways. The sunset on Friday was amazing. Adam and I had no plans at all and spent loads of time playing with the kids on the living room floor, watching Cubs games and the Kentucky Derby. On Saturday we got a new baby pool for Sky and she liked it so much we couldn't get her out of it. Best of all, Micah laughed for the first time this weekend.
Little physical blessings don't erase grief. But each one reminds me that God is good and loving and He has filled my life with wonderful things I didn't earn and don't deserve.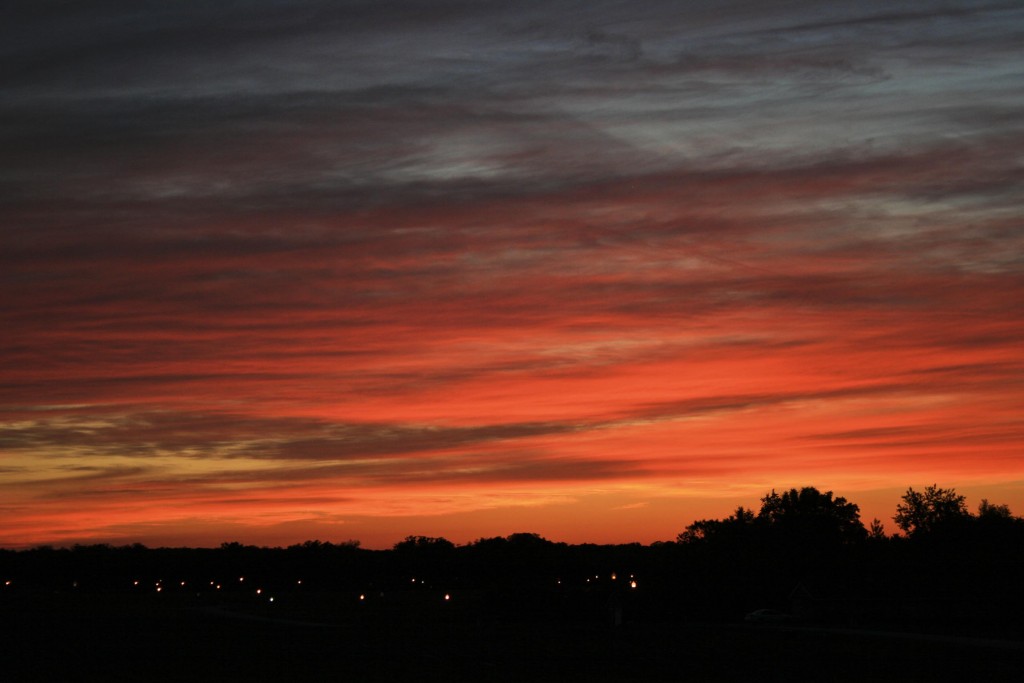 "Our days on earth are like grass; like wildflowers, we bloom and die. The wind blows, and we are gone – as though we had never been here. But the love of the Lord remains forever with those who fear Him." – Psalm 103:15-17a