After she has her bath, and kisses her Daddy and Micah goodnight, Sky runs off to bed. Sometimes she talks and sings a while in her crib before she actually falls asleep, but she never resists going to bed. And there is one reason for this. It's not my hugs and kisses or the peaceful prayers I say. It's her bottle. When she goes to bed she gets a bottle of milk, and this bottle has somehow become a treasure in her life that she seems to love more and more every night.
At Sky's one year check-up,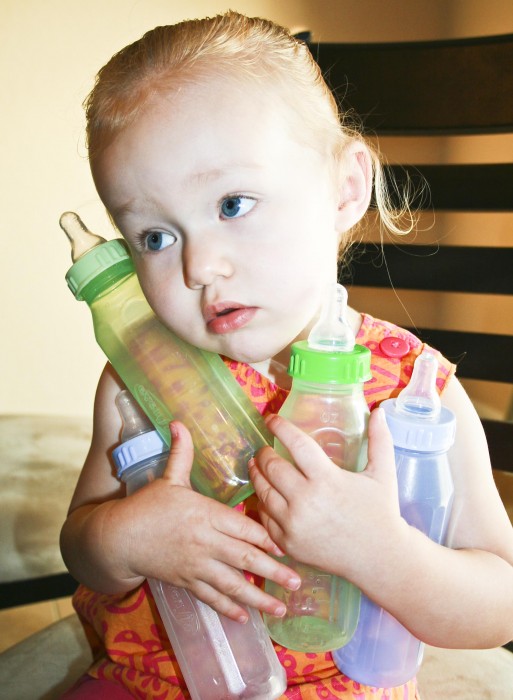 her pediatrician said we should work towards giving up bottles, and I left that day thinking we would get around to that little project soon. But I let a couple months go by. Then my dad got sick and we left for Michigan, where Sky's bottle became the last thing on my mind. We arrived home in time for the holidays and soon afterward, Micah was born. We could have worked on it then, but it seemed like cruel timing to take away one of Sky's biggest comforts right after she'd given up her place as the only child in our family.
We realize we've already broken an "every good parent knows" rule by letting Sky take her bottle into the bed with her at night. It's just that having an automatic, happy bedtime was so wonderful when we first started it that we haven't been able to stop. Yikes, is our whole family addicted to bottles? Sky is now twenty-two months and since we've made it through Micah's newborn days we figure it's probably time to help Sky become a "big girl" and give up her bottles. We're just not sure how to do it gently. Thoughts? Ideas? We definitely need help with this one…