I was a little nervous yesterday morning as I drove to our last MOPS meeting of the year. Along with three other women, I was scheduled to give a short testimony about how God has worked in my life. I'd decided to focus on the infertility and our miracle babies, which is a story I love to tell. But writing about it or sharing it in a conversation is not the same as talking about it over a microphone in front of a large group. It also didn't help that I had to go first. The room was very quiet as I walked toward the podium.
As soon as I got through my opening paragraph though, I felt myself relax. I stopped worrying about how I was coming across and started thinking about the words, the story, and what God had done. When I got to the end of my testimony, I shared two scriptures God keeps putting in my head (1 Thessalonians 5:16-18, which just might be the theme scripture for the rest of my life, and Isaiah 43:1-2, which is one of the most comforting promises I've ever read). After I thanked everyone for listening and headed for my seat in the back of the room, I felt this sudden rush of happiness. I guess part of it was relief that I was done with the up-front sharing part. But mostly it was joy at the memory how God answered the biggest prayer I've ever prayed.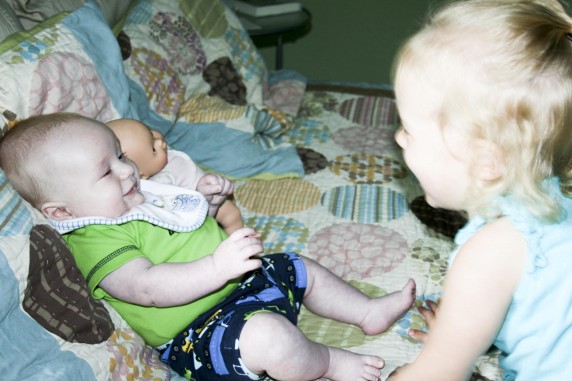 It's funny sometimes how God works. I wanted to encourage one or two of my MOPS friends with my little speech, and I hope that happened. But I was also talking to myself, reminding my forgetful brain of just how good I have it and how powerful my God really is.
I can't wait to pass our story on to Sky and Micah. I hope when they look back on their childhood they forget the times I got irritated and complained about nothing. I want them to remember how their mom was always talking about God's goodness and His blessing on our family.
"Great is the Lord and most worthy of praise; His greatness no one can fathom. One generation commends your works to another; they tell of your mighty acts. They speak of the glorious splendor of your majesty – and I will meditate on your wonderful works." – Psalm 145:3-5